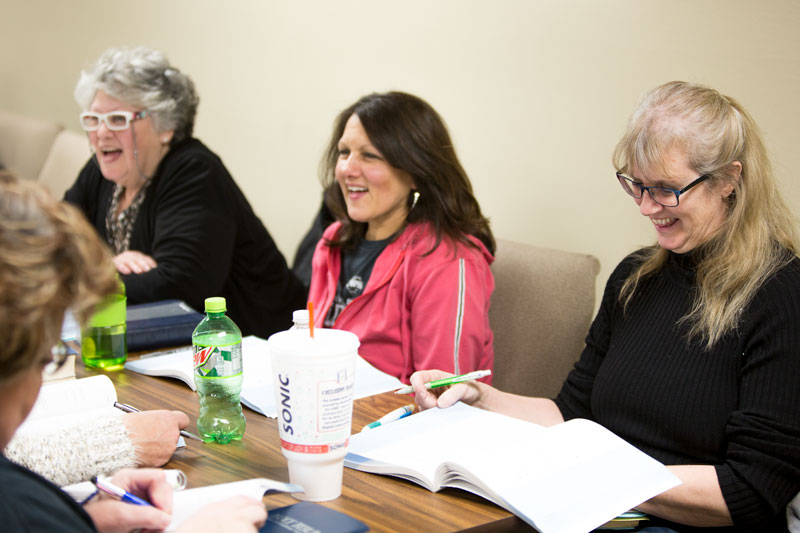 MEN'S BIBLE STUDY
6:45 PM, Wednesday
Meet each week with men of all ages for conversations focused on discovering daily motivation and instruction in Scripture as we seek to become better fathers, husbands and leaders. We also spend time praying together and encouraging one another to stay faithful in applying God's teaching to our lives.
LADIES BIBLE STUDY
6:45 PM, Wednesday
Experience the life-changing power of God's love while studying Scripture and supplemental resources and praying with women of all ages.
ADULT BIBLE FELLOWSHIP
9:30 AM, Sunday
Deepen your Biblical understanding with our discussion-oriented Sunday-morning classes. Each class includes time for fellowship, and the interactive lessons cover both books of the Bible and specific life topics.
MOVE OVER MARTHA
6:45 PM, Wednesday
At this weekly gathering, ladies spend time creating crafts, sharing snacks and discussing lessons from God's Word with a focus on practical lessons for daily living.
Ten24 Groups
Sundays, twice a month
Our 10:24 groups are guided by the command in Hebrews 10:24 to "stir one another up to good works." These adult groups meet twice each month so that members can study the Bible together, pray with one another and learn ways to serve each other and others in the community. Groups are available in a variety of structures that welcome couples and singles of all ages.